Costume Hire Cleaning Information
This is what we wished our laundry area looked like - Too cute!


In this strange and unusual time of uncertainty, we wanted to take you behind the scenes of our store and show you a side of Disguises only the lucky ones get to see! Ok, I admit, it's not that mysterious and it certainly isn't glamourous but we do the dirty work that way you can look your best! 
So, lets take a spin down the rabbit hole also known as the washing machine and find out what happens in the magical wonderland known as the Disguises laundry. 
I bet you didn't know we had a commercial laundry system out the back of our store?! Any costume that leaves the store makes a visit to the laundry upon its return! 

Just like you, we don't know where our hire costumes have been once they've left the store with a previous customer. We are certainly aware that our customers have a great time at their parties and events as their costumes are sometimes a tell tale sign of that (not everything that happens at the party stays at the party!).
However, aside from obvious signs such as sweat and the occasional beer stain, our costumes could have been exposed to other nasties and germs which are invisible to our senses (as much as we wish we had Spidey senses - we don't!). This is why we have a very strict cleaning procedure and we ensure garments and accessories are sanitised for future use as a matter of routine rather than by chance. This is not only for the customers' benefit but our own too!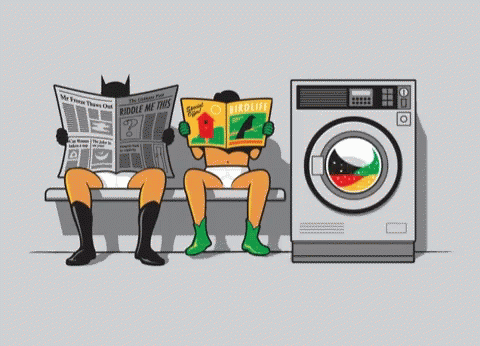 Even Superheroes need their uniform cleaned.
Spray, Steam & Snip.
There's nothing better than a fresh costume that has been cleaned and pressed to perfection. Not only does it look great to wear a crisp jacket or cape, but it is also why our customers choose us! 
As part of the rejuvenation process, we like to ensure once our costumes are cleaned, that they are steamed, ironed and any minor repairs are taken care of before the item is returned back to the store floor. This prolongs the costumes' life and also means that any costume can be hired on the spot at anytime - which is particularly helpful for last minute bookings.  
COVID-19 Cleaning Changes
Since COVID-19 we have upped our usual meticulous cleaning-throughout-the-store habits to rigorous! We are doing our daily disinfecting of benches, glass and other hard surfaces (such as the EFTPOS machines and door handles) on a more frequent basis to ensure our space is always germ free! We have hand sanitiser available at both counters for customers to use. We are also washing our hands in between customers and touching high contact areas where possible to help eliminate the spread. 

We have had to take extreme measures in limiting the amount of costumes customers may try on. We are using our product knowledge and understanding of sizing to help customers narrow down their sizing selections before trying on and of course sanitising the change rooms after each use. 
We have taken the advice of the Government and also slightly changed our laundry process. We are still using the same industrial strength chemicals, alcohol based products and cleaning procedure however now are opting to add an additional few steps. We wear gloves when handling returned hire costumes to keep us safe and to control any potential spread. We are favouring washing in hot water and also making use of using the dryer which is usually only during the rainy season (excluding certain delicate fabrics) to help kill any looming COVID germs post wash.